Toll-based free audio conferencing service
All RHUB appliances under warranty include an audio conference service at no extra cost. Restrictions apply. You may decide to use the RHUB audio conferencing service or choose your own audio conferencing method.
The RHUB audio conferencing service allows all meeting attendees to participate in audio conference by dialing the RHUB audio conferencing numbers. Participants are then charged their standard long-distance rate by their telephone service providers, just as if they have made a regular long-distance call. RHUB does not charge anything for the audio conferencing services.
Values
The market value for toll-based audio conferencing service is $500/year or more per meeting room with 10 attendees. For a TM-510 6-in-1 web conferencing appliance with 4 meeting rooms, the value of the audio conferencing service from RHUB is $2,000 per year, which is sufficient to pay off your investment on TM-510.
Reliability
We know how critical audio conferencing is. When it comes to audio conferencing, you can trust RHUB to provide you with an Enterprise caliber experience.
Integrated Audio
Whether you or your attendees use phones (PSTN) or computer headsets (VoIP), all can talk together. You can record and replay a entire meeting session with everyone's voice and the presenter's screen updates. You can individually mute/unmute callers (PSTN or VoIP) and view who are speaking.
Integrated Audio with Customers' PBXs or Third Party Audio Conferencing by Service Providers
Starting in V5.1, RHUB offers integration between the RHUB integrated audio conferencing and customers' PBX or third party audio conferencing systems by service providers. If you would like to join the beta program, which has started already, please contact us at support@rhubcom.com.
With the integration, the following use cases will be covered:
TurboMeeting VoIP
RHUB PSTN Audio Conferencing (hosted by RHUB)
TurboMeeting VoIP + RHUB PSTN
TurboMeeting VoIP + PSTN/VoIP by customers' PBXs
TurboMeeting VoIP + PSTN by service providers
TurboMeeting VoIP + RHUB PSTN + PSTN/VoIP by customers' PBXs
TurboMeeting VoIP + RHUB PSTN + PSTN/VoIP by service providers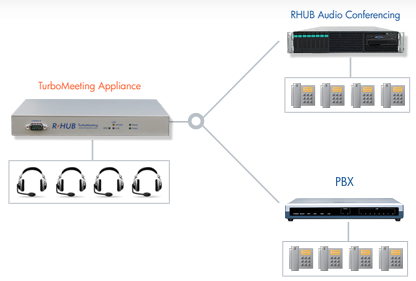 The reason why includes RHUB PSTN in case #6 and #7 is that RHUB PSTN service will allow international callers to join your audio conferencing sessions through domestic calls and avoid international call costs. Currently RHUB's free international call services cover 27 countries around the world. See the next section.
Extensive international dial-in numbers
RHUB has invested dial-in numbers in 27 countries. The list keeps growing. With the dial-in numbers, international attendees can join audio conferencing using telephones (in addition to computer headsets as an option) with affordable domestic dial-in fees. The countries include:
1. Countries with Free Audio Conferencing Dial-in Numbers:

North America:

Other Countries:


Australia
Austria
Belgium
Denmark
Finland
France
Germany
Ireland
Italy
Netherlands
Norway
Spain
Sweden
Switzerland
UK


Note that the above numbers are not published by default for US based users in order to avoid the long list of phone numbers in invitations. To enable it, click "Tools", then "Preferences" and check "Show international call numbers in invitation".

2. Countries with Paid Audio Conferencing Dial-in Numbers:
The countries with paid audio conferencing dial-in numbers include those countries with free audio conferencing dial-in numbers. In addition, the countries for paid services include:
North America:


Canada (toll-free)
USA (toll-free)


Other Countries:


Brazil
China
Greece
Hong Kong
Japan
Mexico
Poland
Portugal
Singapore
South Africa
Thailand


For paid audio conferencing sessions, the hosts can start them just with a telephone anytime without starting an online meeting. The hosts pay for the service. For details, please contact sales@rhubcom.com or 866-758-0984.